It came in the mail yesterday.
Our very own
T21 Afghan
made just for Joaquin.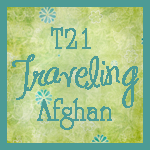 He loves it and so do I. The colors are gorgeous, they compliment his nursery bedding (and his eyes!). Thank you so much Chandos for sharing your talent with us. We love it and look forward to staying cozy and cuddling in it for years to come.
We can't wait to get the "official" afghan sometime this summer.
ONE BLANKET. MANY STATES. MANY COUNTRIES. HUNDREDS OF FAMILIES. ONE COMMON THREAD!